looking to out-market your closest competitors?
you've come to the right place.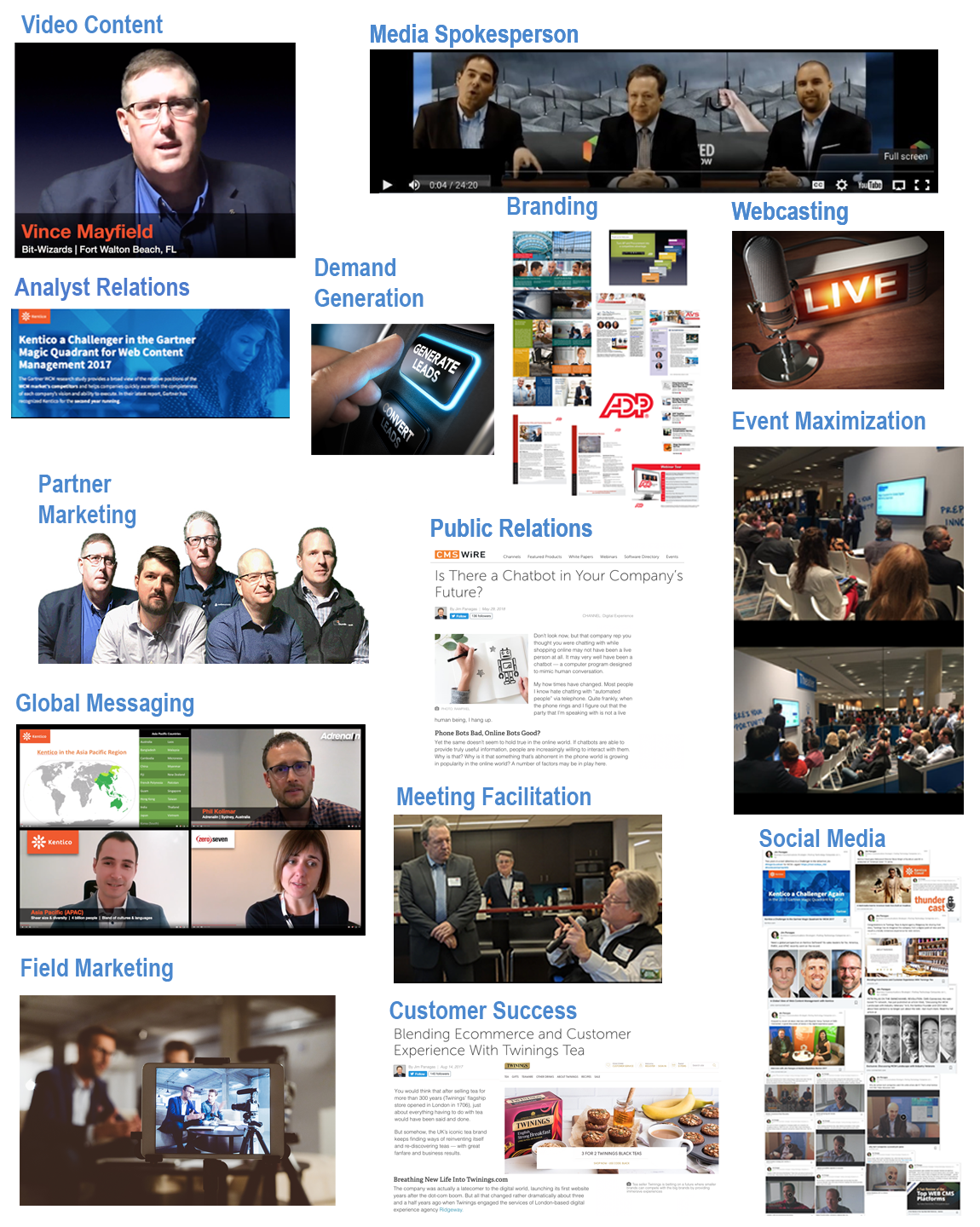 THE IMPORTANCE OF HAVING THE RIGHT COMMUNICATIONS STRATEGY: Pictured above are the myriad of marketing activities that businesses need to master in order to make a run at market leadership. As a good communications program gains momentum, great things start to happen.
Why is it that some companies "catch fire" in the marketplace, attracting all sorts of attention, while others never seem to get out of first gear? Certainly, having the right product or technology at the right time is a big part of it. But so too is the company's approach to communicating with the marketplace.
CEOs, COOs, and CMOs need to continually concern themselves with these questions:
Do we have the right marketing and communications programs and agency relationships in place?

Are we successfully telling the company's story? And do we have the right people telling it?

Are we engaging industry influencers including analysts, editors, and bloggers?

Are we "just another vendor" or are we actively engaging visitors at trade shows, conferences, and seminars?

Are we taking advantage of speaking opportunities?

Do we have an aggressive social media footprint so that people can people can easily follow us on Twitter, YouTube, LinkedIn, etc.?

And, are we projecting a consistent image across all geographies?
The reality is that winning companies communicate with the marketplace far more effectively and convincingly than their competitors. That's what we help them to do. On the pages of this website, you'll get a sense of how corporatevoice just might be able to help your company or organization close the gap and out-market your closest competitors.
Global Messaging
Field Marketing
Video Content
Media Spokesperson
Analyst Relations
Public Relations
Branding
Webcasting
Partner Marketing
Meeting Facilitation
Social Media
Customer Success
Demand Generation
Event Maximization
Interim Marketing VP